Ra.One Review
SRK can fail too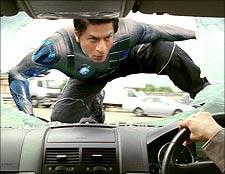 Shah Rukh Khan's [ Images ] latest film offers no emotional connect with the audience even as its story flops in the telling says Saisuresh Sivaswamy.
On paper the idea must have seemed unbeatable. A gamer creates a kickass game to thrill his son, the evil one breaks out of the game and pursues the son, the father steps in to save the son, and the day.
There are many planes on which the idea must have been appealed to Shah Rukh Khan, the dethroned King Khan [ Images ] of Bollywood (Shocked? But it's true: Aamir Khan [ Images ] has taken over the classes and the collections, while Salman Khan [ Images ] has walked away with the masses).
At the height of Amar Singh's [ Images ] lackies gheraoing his mansion Mannat in Mumbai [ Images ] with the family inside, SRK [ Images ] had said he will do anything to protect his children. I presume when Anubhav Sinha approached him with the script, the part about G.One protecting his son must have leapt out at the actor.
Everyone knows, thanks his media saturation skills, that SRK is an owl who stays awake at night. So does the film's G.One. Notch another one for Anubhav Sinha.
Again, thanks his media saturation skills everyone knows that SRK is a gamer, a geek in Bollywood clothes. So is the (thankfully) short-lived caricature of a hero Shekhar Subramaniam or whatever. Notch yet another one for the director.
In his 40s SRK seems to have entered a maturer, mellower phase in his life. I don't know him, have never met him, my only interaction with him being the once I spoke to him on the phone for an interview for Rediff.com. Thus I base my claim on his last few films – Rab Ne Bana Di Jodi, Billu, My Name Is Khan and now Ra.One, where the focus is on the goodness of the self. Like other stars SRK too wants to leave a legacy, but this time for his children, one where the goodness of heart triumphs. It is what his parents left for him and, I suspect, beyond all the wealth he will leave behind this is the legacy he wants his children to treasure the most.
This is a message from our legends as well, so (again I presume) when Anubhav Sinha made his pitch SRK must have felt, what better time to release the film than Diwali [ Images ], which in the Hindi-speaking parts of the country is celebrated with Raavan's downfall and elsewhere in India [ Images ] with other legends of good winning over evil.
With the basics in place, the challenge would have been to translate the grand vision on to celluloid, after which SRK's money and marketing skills would take over.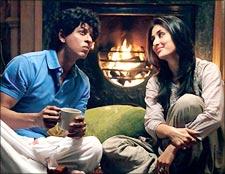 Other givens in place like script etc, three elements need to be in sync for a successful film. The director's vision, the lead actor's vision, and the producer's vision. The last is commercial, return on investment, while the first two are creative, and it is essential that the director's vision mesh with the actor's, or at least subsume it.
Ra.One's fault number one, as I see it, was that the director and the lead actor had different visions. The director's vision was to tell his story, and SRK's was to get his 'message' across. Somewhere somehow they did not sync with each other. So at the end of the film, SRK's message comes across, but the story flops in the telling.
Ra.One's fault number two was that there was no emotional connect with the audience. A superhero is out to save the world, the established order which has you and me, members of the audience, in it and we need to feel the urgency of being saved. The unsuperhero G.One's goal, on the other hand, is merely to save his family from an equally inept villain. Who cares!
Ra.One's fault number three was the poor FX. If this tackiness is the level of FX India's biggest movie budget can buy, then I suggest Bollywood return to more modest but effective story-telling. The last Hindi superhero film, Krrish [ Images ], must have been made on a fraction of Ra.One's budget but boasted better FX and worked just fine – and not merely because Hrithink Roshan is a better looking actor.
Ra.One's fault number four was that the hero is very un-hero. Oh, G.One has the usual charm that SRK brings to his characters, plus the dimples, but you need to fi
ght out there, not flee all the time. A superhero with no real super skills apart from whirling like a ceiling fan etc? And to think that SRK turned down Shankar's Robot to make this film!
Plus, if I may make a suggestion, can SRK please bring back his original dance director Farah Khan [ Images ]? I don't know what went wrong between them, but she 'knew' SRK and the dance steps reflected that. Here G.One does the hip steps that seem so alien to the SRK we know and love on screen.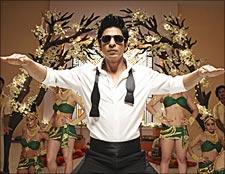 Ra.One's fault number five was that it insults audience intelligence too much. All films do, but within limits. Here there seems to be no end to it. Just one instance: Kareena [ Images ] returns to India (why, we don't know since her husband is a British citizen) to her old house where her neighbours know them well, but no one seems to know that her husband is dead or notice that the man with her is not the same guy. Makes me pray as a film-goer that the promise of the last scene, where G.One is shown to return (this time as the evil one, something tells me), doesn't happen.
So what is my takeaway from this most expensive abomination to hit our screens? That even SRK can fail; that while sex continues to sell, SRK doesn't.
Finally, my reaction as a Tamilian to the first Tamil character essayed by SRK: funny and irreverent so typical of the man, but there's a inbuilt danger in caricatures. Which is that the caricature stays on in the mind, not the character. Which happens with Ra.One, which is also its biggest fault.
And as PS, let me rub it in as a Tamilian. Rivals may diss Sachin Tendulkar [ Images ] to score points during their book release, but at the end of the day his batting record is there for everyone to see. Similarly, you can caricature Tamils no end, but at the end of the day Rajnikanth's [ Images ] Endhiran collections are there for all to see. Paithikkara!
Rediff Rating:

Also read: Ra.One: What a letdown!Ra.One is SRK's most expensive midlife crisisWhy Ra.One disappointsRa.One disappoints New York
Readers Review on Ra.One


Courtesy: rediff